Boots and gloves need to protect you, feel comfortable and be easy to put on and take off.
Boots
If you cant afford proper bike boots, at least wear boots that cover your ankles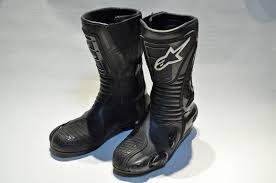 Ankle covering boots are important because stones from the road can fly up and hit your feet and ankles. If you cant afford proper bike boots, at least wear hiking boots that cover your ankles. Riding boots extend up the calf to protect from road stones and hot exhausts. And if you have leggings, they go up enough so the rain doesn't run into your boots. Good boots are waterproof and warm. They close with zip and Velcro, not laces that can come loose and tangle in moving parts. I  like my boots to look nice when walking so when I arrive there is no need to change shoes. If you pull your pants over the boots it looks like you are just wearing ordinary black shoes.
Gloves
Protective, insulated, water-proof, breathable, lightweight – gloves have a lot of demands!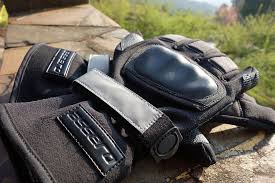 Gloves protect your hands with extra padding at hit points, like knuckles. They keep hands warm but not sweaty, if made of a material that insulates but still breathes. Heavy gloves should be waterproof, as wet gloves make your hands stink. Gauntlet gloves are long enough to cover over the jacket sleeve, so wind and water can't come up the arm. Finally, you want gloves as light as possible, so your hands can feel the controls. Protective, insulated, water-proof, breathable and lightweight – gloves have a lot of demands! I usually have two pairs of gloves, heavy for winter and light for summer. Heavy gloves are bulky but keep the rain and cold out. Light gloves give better finger control at the handlebars but still offer protection in an accident. In heavy rain, water goes up the sleeve because the jacket sleeves go over them.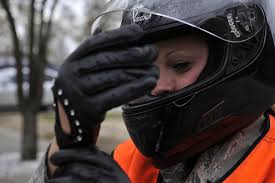 I wear lighter gloves when possible because they give better control. Don't buy the "finger free" gloves hunters use. They look good, but dont protect your all important fingers. And don't use mittens – they keep your fingers warm, but you have terrible lever control. Some gloves have a little zip pocket on the back. If you go through tolls, you can keep coins in there, and get at them easily.
Leggings
Leggings must be long enough to go over your boots when you bend your knees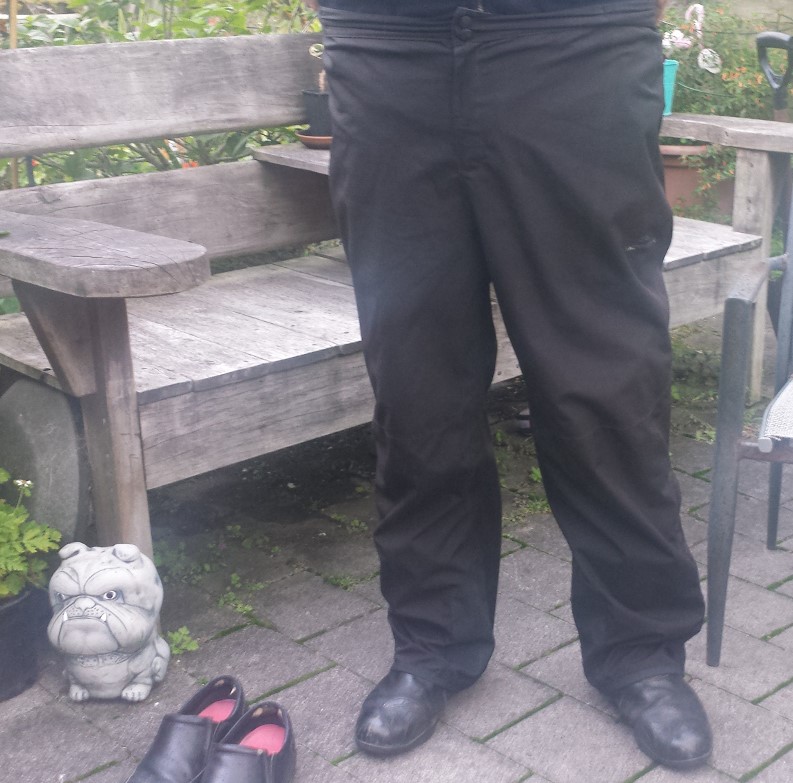 Leggings are not pants, they are what goes over your pants, and also go over skirts by the way. The main thing about leggings is they must be easy to put on and take off with boots on – or you wont use them. Good leggings are wide and have zip at the bottom to ensure this is always possible. Riding in shorts is stupid. If you come off, say goodbye to the skin on your legs. If you normally wear shorts, at least put on lightweight leggings when you ride. I wear lightweight leggings even just around town because they protect my nice pants from dirty road grime, not to mention the occasional flying road stone. With leggings, you can arrive looking good. Leggings also let you jump onto a wet motorcycle seat without flinching. Leggings must also be long enough to go over your boots when you bend your knees, as you do while riding, not always easy if you are tall. If not, the leggings just channel the rain right into your boots.
Scarf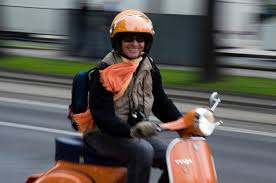 It can be good idea to wear a light scarf to seal your neck against cold and rain if the jacket doesnt have a collar that goes right up. It also stops the jacket Velcro from scratching the neck and feels nice. Finally, it stops nasty insects flying down your neck when your riding. The ends of the scarf can also be a useful warmth addition to tuck down the front of your jacket if it suddenly gets cold.
Watch
If your watch strap breaks open or unclips while riding at 80mph down a highway, then your watch is gone forever. You will not get it back. So I wear a watch strap that unclips to a continuous loop. If the strap opens up, the watch still stays on your wrist.
Easy on, easy off
Most important, leggings must also slip on and off easily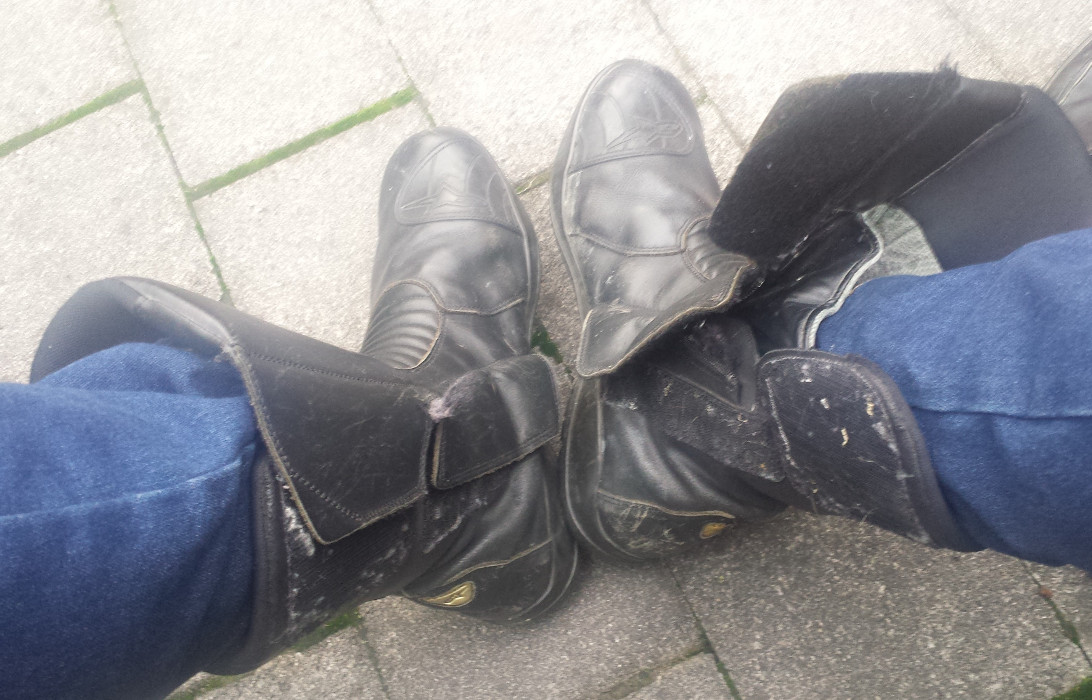 With gear, the time lost getting it on and off can cancel out the time saved because bikes are quicker. So make "easy on, easy off " your overall number one gear requirement. Who wants to spend 15 minutes getting ready to ride? Gloves need a smooth inner lining to slip on without fuss. Helmet should be flip and clip. Boots should be zip and Velcro close. In  the Army, I had boots that were great protection but took ages to lace up. If what you wear is fiddly, you will tend not to use it. This applies most of all to leggings, that must also slip on and off easily. No item should take longer than a minute to get on, and most should be less. So like a hard boiled egg, I am ready in three minutes.